Flatiron Building
1209 Pendleton Street
Greenville, SC  29611
www.patriciakilburg.com
Want to visit the Studio?  Call 630-1652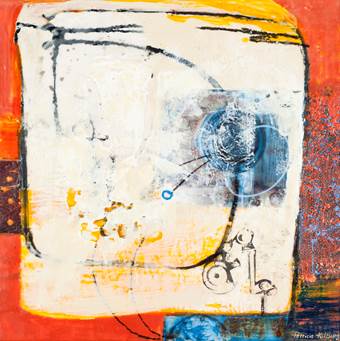 Cultural Landscape VI
24" X 24", Encaustic on Board
www.patriciakilburg.com
Coming in June:
First Friday Gallery Walk
Friday, June 6, 6:00-9:00 PM
Patricia Kilburg Studio will be open for the First Friday Gallery Walk.  Drop in and say hello!  There's plenty of convenient parking across the street from the Flatiron Building.
Also in June, visit a special "pop up" shop in the Flatiron Building.  Come and see this delightful surprise.
ENCAUSTIC WORKSHOPS
Experience encaustic, the ancient art of painting with pigments dissolved in hot wax. Learn the process used for this luminous medium. A two day workshop includes basic painting and fusing, incising lines and marks, creating texture, adding collage elements and more. Artists of every skill level will create an encaustic painting.
Two days, one-on-one instruction: $300, plus $50 materials
Bring a friend and receive a discount (Maximum four people per workshop)
Call 630-1652 to schedule
SEE MY WORK AT THE FOLLOWING VENUES:

Encaustic demonstration by Patricia Kilburg
Greenville County Museum of Art
420 College Street
Greenville, SC
(864) 271-7570
www.gcma.org
Sundays at 2: Artist in Action
Sunday, June 1
2:00-3:00 PM
One Stop Open Studios

Patricia Kilburg painting "Tori Gate to the Sacred"
Metropolitan Arts Council
16 Augusta Street
Greenville, SC
www.greenvilleARTS.com
May 6-June 20