About Patricia Kilburg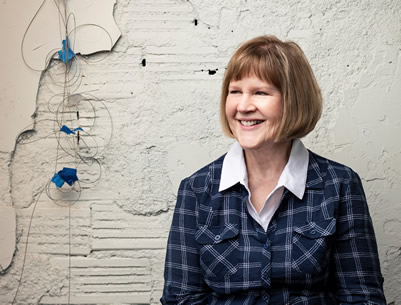 Seduced by the tactile appeal of various materials, I investigate and respond to the medium itself as a place to start, a "way in" to my process of creating.  Experimentation with paints, fiber, pastels, and charcoal keeps me returning to the studio with enthusiasm and curiosity.  Regardless of which medium I am using, in my head, there is the unspoken question, "What would happen if…"
I am also greatly influenced by my environment.  When growing up in the Chicago area, I often took the train into the City.  One of my favorite stops was the Art Institute of Chicago.  Viewing their collections of paintings, sculptures, ancient coins, African masks, textiles and more catalyzed an interest in pursuing my own art.  The idea that basic materials could be transformed into beautiful and meaningful objects stayed with me.  Today it drives me to give form to my own creative ideas.
Greenville, South Carolina, my home since 1990, is rich with cultural offerings.  In this place there is a synergy between visual art, music, dance, and theatre in combination with the natural beauty of mountain, wood, and water.  Each day I experience an abundance of stimulation that generates ideas and compels me to paint.
Complex texture, simple forms and expressive marks shape the direction of my paintings.  They are multi-layered with "secret places" for the eye to go and the imagination to be triggered.  That which is on the surface and below the surface fascinate me, as well as the push and pull of color to create depth.  My work carries a sense of mystery and ambiguity, where reality is momentarily suspended, evoking the viewer's own feelings and experiences.
Representation
Pivot Point Gallery at historic Emory Place, Knoxville, TN
www.pivotpointgallery.com
Selected Exhibitions
| | |
| --- | --- |
| 2021 | Solomon Gallery at Artists Collective Spartanburg, Spartanburg, SC:  Twists and Turns:  A Retrospective.  Solo Exhibit |
| 2020 | Metropolitan Arts Council, Greenville, SC:  Art Goes Viral.  Invitational group exhibit. |
| 2019 | Upstairs Artspace, Tryon, NC:  LIGHT COLOR ACTION.  Invitational 3 person exhibit. |
| 2019 | Annette Howell Turner Center for the Arts, Valdosta, GA:  Inside Out:  Celebrating Women in Art.  Invitational group exhibit. |
| 2018 | Artists of the Upstate juried exhibition, Greenville, SC |
| 2017 | Greenville Center for Creative Arts, Greenville, SC: Studio South Exhibition |
| 2016 | Bob Jones University, Greenville, SC: Contemporary Still Life, Invitational |
| 2014 | Fine Arts Center, Greenville, SC: Ties that Bind: Community, Invitational |
| 2014 | Artfields, Lake City, SC. Jury Review Panel: Jill Hooper, Stuart Horodner, Mark Scala, Renee Stout, Kristen Watts |
| 2013 | Metropolitan Arts Council Gallery, Greenville, SC: Some Like It Hot: Encaustic Art in the Upstate, Organizer and Participant, February 22-April 12, 2013 |
| 2012 | Meredith College, Raleigh, NC: Wax Foundations: Encaustic in the Southeast, Invitational Exhibit, September 9-October 28, 2012 |
| 2012 | Coldwell Banker Caine, Greenville, SC: Encaustic Paintings by PATRICIA KILBURG, Invitational Solo Exhibit |
| 2011 | Anderson Arts Center, Anderson, SC: Abstract Alliance, Invitational, November 18-December 30, 2011 |
| 2011 | Centre Stage through Metropolitan Arts Council, Greenville, SC: At This Point in Time…Mixed Media Works by PATRICIA KILBURG, Solo Exhibit, March 18-April 20, 2011 |
| 2010-2013 | Art in the Embassies Program, Lima, Peru, Invitational |
| 2010 | Spartanburg Art Museum, Spartanburg, SC: 2010 All South Carolina 2D Juried Exhibition, Juror: Barbara Anderson Hill, Independent Curator and Consultant |
| 2009 | Florence Museum of Art, Science and History, Florence, SC: South Carolina Watermedia Society 32nd Annual Exhibition, Juror: Pat Dews, AWS, NSW |
| 2008 | Upstairs Artspace, Tryon, NC: New Perspectives: Artists of Abstract Alliance |
| 2008 | Upstairs Artspace, Tryon, NC: String of Pearls: 30 Years of Upstairs Artspace, Invitational Exhibit |
| 2008 | Franklin Burroughs-Simeon Chapin Art Museum, Myrtle Beach, SC: South Carolina Watermedia Society 31st Annual Exhibition, Juror: Mark E. Mehaffey, AWS, NWS |
| 2008 | South Carolina State Museum, Columbia, SC: South Carolina State Museum 20th Anniversary Juried Art Exhibition, Juror: Brian Rutenburg, New York City, NY, and Lia Newman, Director of Programs and Exhibitions, Artspace, Raleigh, NC |
| 2008 | FYI Gallery, Greenville, SC: …6, 7, 8, 9…Inaugural Show, Curator: Michael Brodeur, Associate Professor, Art Department, Furman University, Greenville, SC |
| 2008 | Chapman Cultural Center, Spartanburg, SC: Perceptions: Mixed Media Collage Works by Patricia Kilburg, solo exhibit |
| 2007 | Spartanburg Museum of Art, Spartanburg, SC: South Carolina Watermedia Society 30th Annual Exhibition, Juror: John Salminen, AWS, NWS, DF, Duluth, MN |
| 2006 | Spartanburg Museum of Art, Spartanburg, SC: The Third Biennial Hub City Regional Juried Art Competition, Juror: Dr. Marian Wardie, Curator of American Art, Brigham Young University Museum of Art |
| 2006 | Union County Arts Council, Union, SC, Juror: Mary Todd Beam, ASW, NWS |
| 2006 | Upstate Visual Arts, Greenville, SC: Claude E. Smith, Jr. Juried Show, Juror: Tom Dimond, Professor, Department of Art, Clemson University, Clemson, SC |
| 2003-2005 | Art in the Embassies Program, Guatemala City, Guatemala, Invitational |
| 2003 | Conn Gallery & The Upstairs Gallery, Landrum, SC: Doors and Other Openings |
| 2002 | Pickens County Museum of Art and History, Pickens, SC: Focus: An Exhibition of Fiber Artists |
| 2002 | Mint Museum of Craft and Design, Charlotte, NC: Quilts form the Carolinas |
| 2001 | Brooks Center for the Performing Arts, Clemson University, Clemson, SC: Focus: Art Quilts |
| 2001 | Erskine College, Due West, SC: Focus Exhibit |
| 1999 | Johnson-Humrickhouse Museum, Coshocton OH: Pushing the Surface |
Awards
| | |
| --- | --- |
| 2013 | Furman University, Greenville, SC: Purchase Award, Baiden Gallery, Herring Center for Continuing Education |
| 2009 | Member in Excellence – South Carolina Watermedia Society |
| 2008 | M. Graham and Company Merchandise Award, South Carolina Watermedia Society 31st Annual Exhibition, Franklin Burroughs-Simeon Chapin Art Museum, Myrtle Beach, SC |
| 2007 | HK Holbein, Inc. Merchandise Award, South Carolina Watermedia Society 30th Annual Exhibition, Spartanburg Art Museum, Spartanburg, SC |
| 2005 | Honorable Mention – Art in the Park Juried Exhibition, Greenville, SC |
| 2000 | Honorable Mention – Quilters of South Carolina, Our Future is Our Past, Aiken,SC |
| 1997 | Award of Merit, Art in the Park, Greenville SC |
| 1994 | Award of Merit, Art in the Park, Greenville SC |
| 1992 | Second Place, Viewers' Choice, Wallhanging, Foothills Piecemakers Quilting Guild Show, Greenville SC |
| 1990 | First Place Judged, Wall Quilt, Fall Quilt Show, Tarheel Piecemakers and Western NC Quilters Guild, Hendersonville NC |
| 1990 | First Place Viewers' Choice, Wallhanging, Foothills Piecemakers Quilting Guild |
| 1990 | First Place Viewers' Choice, Wallhanging, Inland Empire Quilters Guild, Corona CA |
| 1990 | Second Place, Judged, Appliqued Wallhanging, Inland Empire Quilters Guild, Corona CA |
| 1990 | Second Place Viewers' Choice, Quilters Plus Quilt Guild, Harvey IL |
Collections
Furman University, Greenville, SC: Permanent collection, Baiden Gallery, Herring Center for Continuing Education
Rush-Presbyterian St. Luke's Medical Center, Chicago, IL (commissioned work)
Upper Extremity Rehab Specialists, P.A. (two commissioned works)
Education
Museum School of Art, Greenville County Museum of Art, Greenville, SC
DePaul University, Chicago, IL
Community Involvement
Former Chair of Greenville Center for Creative Arts, Greenville, SC, 2020-2022
Member of the Founding Board of Greenville Center for Creative Arts, Greenville, SC, 2014
Secretary of the Board of Greenville Center for Creative Arts, Greenville, SC, 2014-December 2019
Exhibition Committee Chair, Greenville Center for Creative Arts, May, 2015-June, 2016
Judge for the Congressional Art Competition for high school students within the Fourth Congressional District, Greenville, SC, 2016
Judge for Greenville County Schools art contest depicting "What Does Segregation Look Like?", 2014
Recurring service on the Metropolitan Arts Council Grants Panel, Greenville, SC
---