Patricia Kilburg: Art News & Happenings
---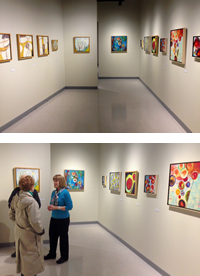 2023
January: Dream a New Dream
2022
November: Gratitude makes optimism sustainable" (Michael J. Fox)"

June: June Already?
March: Backyard Palette
2021
November: Autumn Energy
September: For the Love of It

August: Summer lingers in the grateful Heart

April: Feeling Optimistic
Featured in Forbes: Neighborhood To Watch: The Village Of West Greenville, South Carolina
February: For the Love of It
2020
December: 'Tis the Season
November: Open Studios 2020
March: The Bank Building Studios Grand Opening!
2019
September: Sweet September in the Village
August: New Work!
May: Special Announcement from Patricia Kilburg Studio
May: Create Your Own Sunshine!
March: Sprint Ahead
February: "Hootin' the Blues", Sonny Terry
---