News Archive
2018
December: 'Tis the Season
November: "I'm thankful for every moment." – Al Green
October: Time for a Cool Change
July: Blue Skies Ahead
April: BEE-sy Spring
February: Warm Welcome in a Cold Month
2017
November: New Body of Work
October: October in the Villiage
August: A Place in Time
June: Summer's here and the time is right…
April: Spring Mix
2016
December: Chillin' Out
November:  These golden days I'd spend with you.  Maxwell Anderson
October:  The Golden Month
August: How I Spent My Summer Vacation (so far)
June: "She listens like Spring and she talks like June"  Train (Drops of Jupiter)
May: "All things seem possible in May." – Edwin Way Teale
March: Hello March!
 2015
December: December in the Village
November: Open Studios Month
October: October Song
September: Come September
August: In the Good Ol' Summertime
July: LIFE, LIBERTY AND THE PURSUIT OF HAPPINESS TO ALL!
June: "Moonland, a summer's evenin' in June land"  (Marty Robbins)
May: Hello May
April: Spring Beckons

March: "No winter lasts forever; no spring skips its turn."  Hal Borland
February: There is no instinct like that of the heart – Lord Byron
January: Happy New Year!

2014
December: First Friday Gallery Walk
November: Greenville Open Studios!
September: Sweet September
August: Hot Time Summer in the City
July: Happy Fourth of July from Patricia Kilburg
June: Newsletter: June is bustin' out all over
May:  Newsletter: First Friday Event, and More…
April: Art Walk is Back!
---
Exhibits & Events
08/07/16    Greenville County Museum of Art, Sundays @ 2:00, Encaustic Demonstration and Lecture
05/13/16    Artisphere Arts Festival, Furman University Art Lab, Greenville, SC, Encaustic Demonstration
04/22/16    One of the judges for the Congressional Art Competition for high school students within the Fourth Congressional district, Greenville, SC
12/13-2/14 "Fire Dance:  Encaustic Art of Patricia Kilburg" 
Pickens County Museum, 307 Johnson Street, Pickens, SC December 7, 2013 – February 6, 2014
08/01/12 Patricia Kilburg Studio and Gallery opens in the Village of West Greenville Arts District, Flatiron Building, 1209 Pendleton Street, Greenville, SC, 864-630-1652
09/11-10/11 Greenville Chamber of Commerce: Mixed Media Works by Patricia Kilburg, Invitational Solo Exhibit
05/11 Centre Stage, Greenville, SC:  Artisphere Artists of the Upstate:  Juried Fine Art Competition, Juror:  Todd McDonald, Assistant Professor of Art, Painting, Clemson University, Clemson, SC
2011 Encaustic and Acrylic paintings by Patricia Kilburg exhibited with Abstract Alliance at Village Studios & Gallery
03/11 At This Point in Time… Mixed Media Works By PATRICIA KILBURG
March 18-April 20, 2011
Centre Stage, 501 River Street, Greenville, SC  29601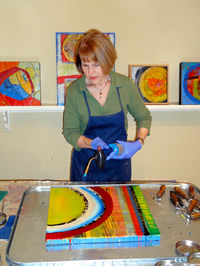 05/11 Artisphere Greenville, Encaustic Demonstration,
02/11  Encaustic and Acrylic paintings by Patricia Kilburg exhibited with Abstract Alliance at Village Studios & Gallery
09/20/10 Metropolitan Arts Council Grants Panel
Patricia Kilburg was invited to serve on the MAC Grants Panel.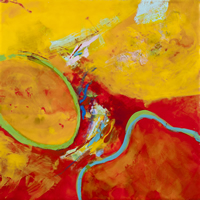 8/19/10 Greenville County Museum of Art, Artists in Action
The Museum welcomed about 50 attendees for a talk and demonstration by Patricia Kilburg on the ancient art of encaustic painting using modern methods.  Ms. Kilburg will teach a workshop at the Museum on encaustic in January, 2011.
10/17/09 Member in Excellence
For being juried in to the South Carolina Watermedia Society annual exhibition for the third consecutive year, member Patricia Kilburg receives the honor of Member in Excellence.
10/25/08 "Sic Transit" Takes Award On October 25, 2008, "Sic Transit", an acrylic/mixed media collage work by Patricia Kilburg, was given the M. Graham and Co. award by juror Mark E. Mehaffey, AWS, NWS, at the South Carolina Watermedia Society Awards Luncheon in Myrtle Beach, SC.  One of the top thirty award winning paintings, the piece will travel for a year to locations scheduled by the SC State Museum.
4/21/08 Carolina In The Morning
Patricia Kilburg featured on Carolina in the Morning. Click to see video.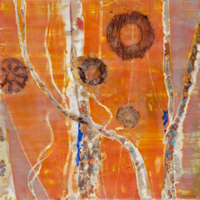 04/25/08  "Time and Tide" chosen for State Museum show
A work by Patricia Kilburg titled "Time and Tide" is chosen for The South Carolina State Museum's 20th Anniversary Juried Art Exhibition, Columbia, SC.  "The exhibit represents the work of 116 artists from across South Carolina.  The Museum received work from 504 artists from across the entire state, giving the jurors
nearly 1,000 works of art to select from.  This exhibition represents the diversity of art found in South Carolina, and the many variations of traditions, new inventions and other works of contemporary art produced by resident artists."
2/01/08  Solo exhibit showcases artist's work
Perceptions:  Mixed Media Collage by Patricia Kilburg, a solo exhibit of the artist's work,  opens Feb. 1 at the Guild Gallery in Spartanburg's Chapman Cultural Center, Spartanburg, SC.
9/29/07  "Momentum" Takes Award
On September 29, 2007, "Momentum", by Patricia Kilburg received the HK Holbein, Inc. Merchandise Award at the South Carolina Watermedia Society 30th Annual Exhibition, Spartanburg, SC.  Juror was artist John T.; Salminen, AWS-DF, NWS.
6/03  "Romanesque VII" installed at Embassy Residence
Patricia Kilburg's textile work "Romanesque VII" is installed in the official residence of the United States Ambassador to Guatemala, as part of the exhibition curated on behalf of the Honorable John Hamilton, through the Art in the Embassies Program.
04/26/02  Textile art featured in exhibit at the "Mint"
Patricia Kilburg's fabric piece "Romanesque VII" is chosen by Mint Museum of Craft & Design, Charlotte, SC, Director, Mark Leach.  "Selected from over 130 entries, these fourteen quilts highlight contemporary construction and material innovations as well as traditional fiber techniques."  (Best of the Carolinas Quilt Invitational brochure.)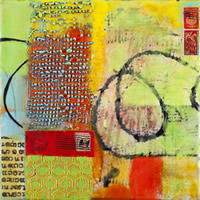 First Fridays:
experience the visual arts
Visit the studio and gallery of
Patricia Kilburg
Every first Friday of the month
6:00-9:00 PM
Village of West Greenville Arts District
Upcountry History Museum/Furman University
Exhibit: Protests, Prayers, and'Progress:
Greenville's Civil Rights Movement
Through Thursday, June 5, 2014
On panel of three judges for Greenville County Schools art contest
depicting "What Does Segregation Look Like?"
540 Buncombe Street
Greenville, SC


ARTFIELDS
April 25-May 4, 2014
Lake City, SC
Juried Exhibit


ARTISPHERE 2014
Encaustic Demonstration
Saturday, May 10, 2:00-3:00 PM
Downtown Greenville, SC
Greenville Open Studios 2014
Friday, November 7, 6:00-9:00 PM
Saturday, November 8, 10:00 AM-6:00 PM
Sunday, November 9, Noon-6:00 PM
Village of West Greenville Arts District
Metropolitan Arts Council
Greenville Open Studio Artists' Spring Show
May 2-June 20, 2014
Patricia Kilburg Encaustic Workshops
Contact Patricia for more info. 
---