August 2021
PATRICIA KILBURG STUDIO
The Bank Building Studios
1279 Pendleton Street
Greenville, SC  29611
Call (864) 630-1652
www.patriciakilburg.com
---
Open First Friday, August 6, 6-9 PM
Can't make that date?  Call or message 630-1652
to visit the studio another time.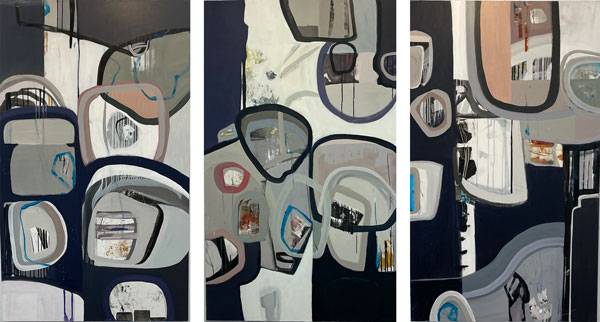 Rolling With It: #1, #2, #3
48" x 36" each
Acrylic on Canvas
PATRICIA KILBURG
---
How do I know when a painting is finished?
This is a frequently asked question. To me, there are two answers:
1. It is finished when I can't think of one more thing that would enhance the composition; or
2. It is never finished!
The first answer is my signal to sign it and hang it in the gallery. But, in fact, when I study a painting that I have decreed "finished", it often calls to me to try one more thing, make one more mark, add one more color, take one more risk. Sometimes I ignore the impulse, but often I go ahead and do that "one more thing". Occasionally it helps, but sometimes the painting gets overworked. What happens then? I keep working on it until the problems are resolved, or I paint over it with gesso and START AGAIN.
Recurring Dream
18" x 12"
Mixed Media on Canvas
PATRICIA KILBURG
---
The Bank Building Studios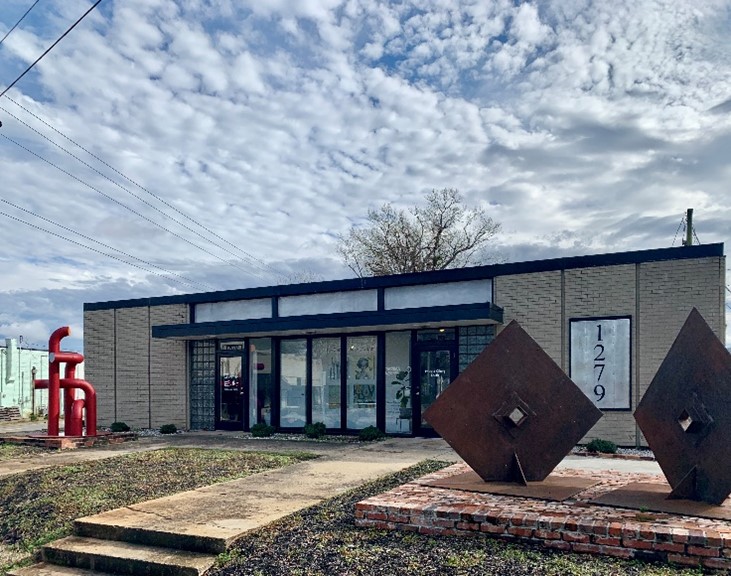 1279 Pendleton Street
Greenville, S
www.patriciakilburg.com
(photo by Traci Wright Martin)
---
BREAKING NEWS!
I will be teaching two encaustic workshops at Greenville Center for Creative Arts this Fall. You can register at GCCA starting on First Friday, or watch for the enrollment form on their website: www.artcentergreenville.org
Color Play
8" x 10"
Encaustic on Board
PATRICIA KILBURG
---
WHAT'S HAPPENING AT THE MILL?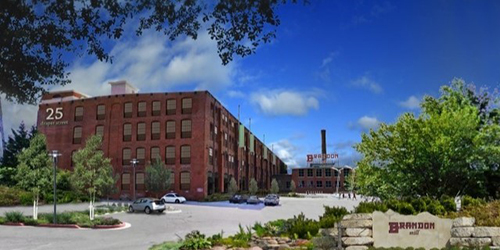 GREENVILLE CENTER FOR CREATIVE ARTS
in the Village of West Greenville
101 Abney, off Pendleton Street
www.artcentergreenville.org
Gallery hours every Tuesday through Friday from 9AM to 5 PM and Saturday from 11AM to 3 PM
MAIN GALLERY: 2021 ANNUAL SHOWCASE
AUGUST 6, 2021 – SEPTEMBER 22, 2021
Opening Reception: Friday, August 6, 2021 / 6:00 – 9:00 pm
ARTalk: Tuesday, September 14, 2021 / 6:00 – 7:00 pm
The GCCA Annual Showcase will include the 2021 Member Show, 2020-2021 Brandon Fellowship Exhibition, and the Summer Art Camp Showcase.
The Member Show features individual works of art done by the current members of GCCA and provides an opportunity for the community to see the breadth of work being created by supporting members of GCCA.
The 2021 Annual Showcase is sponsored by Pinnacle Financial Partners.
Community Gallery:
Cecelia Ho and Kat De La Cruz
---