April 2021
PATRICIA KILBURG STUDIO
The Bank Building Studios
1279 Pendleton Street
Greenville, SC  29611
Call (864) 630-1652
www.patriciakilburg.com
---
Open First Friday, April 2, 6-9 PM
Can't make that date?  Call or message 630-1652 to visit the studio another time.
(Safe distancing and wearing a mask will be in effect.)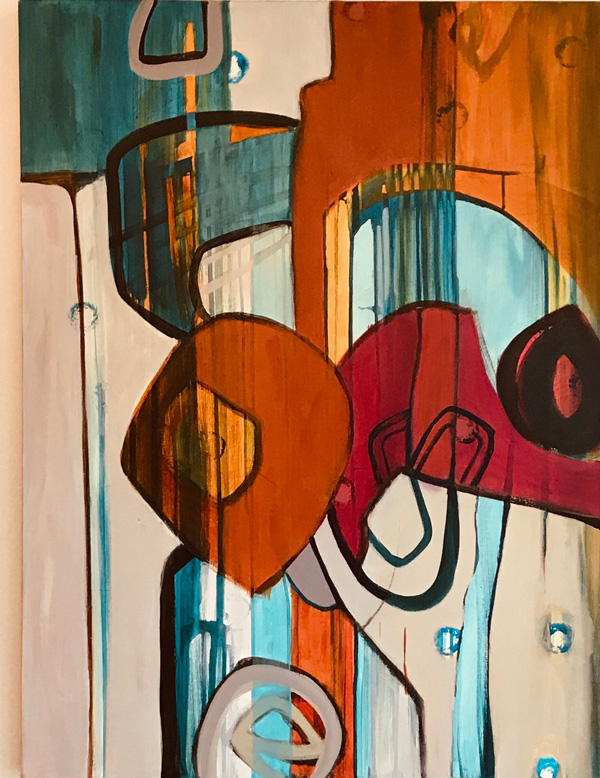 Being Optimistic
40" x 30"
Acrylic on Canvas
PATRICIA KILBURG
---
Where do my ideas come from?
As a child, I was quite the young observer.  Things like unusual rocks, shells, discarded scraps of paper, broken toys, seed pods–all were fair game for my collections.  I loved to look at the colors, textures, and shapes of found objects and of my surroundings.  Visits to museums to view art and artifacts triggered an interest in pursuing my own art.  The idea that basic materials could be transformed into beautiful and meaningful objects stayed with me.  Today, it drives me to give form to my own creative ideas.
Greenville, South Carolina, our home since 1990, is rich with cultural offerings.  In this place there is a synergy between visual art, music, dance, and theatre in combination with the natural beauty of mountain, wood, and water.  Each day I experience an abundance of stimulation that generates ideas and compels me to paint.  And yes, I still occasionally pick up little "treasures" during my walks!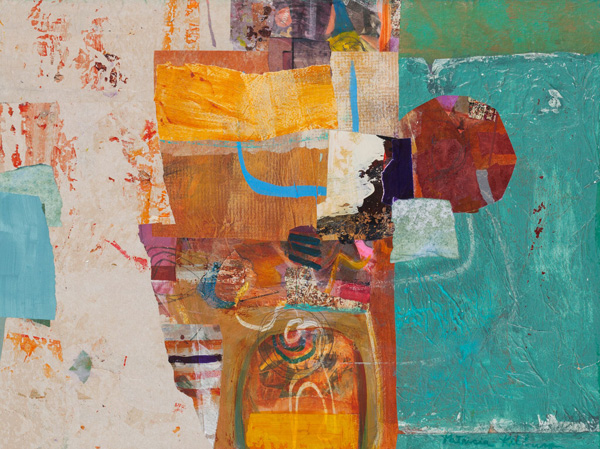 Ocean Blue
18" x 24"
Acrylic/Mixed Media
PATRICIA KILBURG
---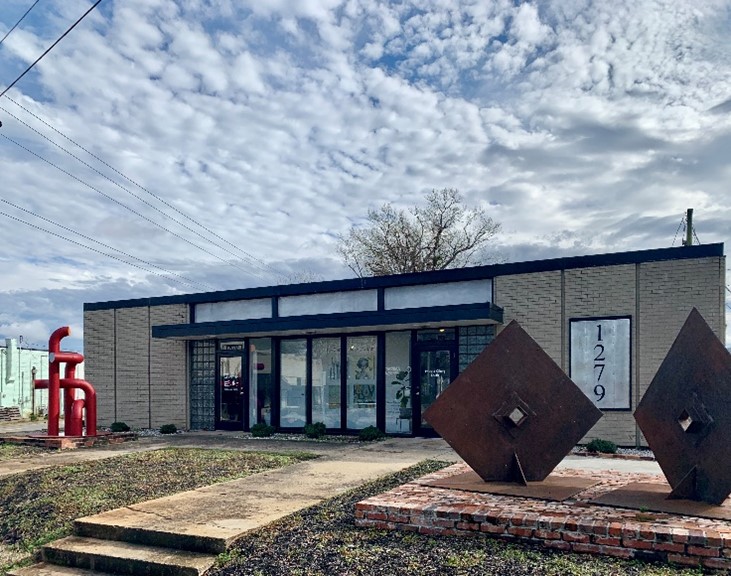 The Bank Building Studios

1279 Pendleton Street
Greenville, S
www.patriciakilburg.com
(photo by Traci Wright Martin) 
---
ATTENTION—COMING SOON TO
Artists Collective of Spartanburg!
April 6 – May 1

Tuesday-Saturday: 10am – 4pm
Solomon Gallery
Twists and Turns
A Retrospective:
PATRICIA KILBURG

Folk Dance
31" x 41"
Quilt
PATRICIA KILBURG
578 West Main Street
Spartanburg, SC 29301
https://artistscollectivespartanburg.org/
Featuring over 40 works created during the past 25 years, including fiber, acrylic, encaustic and monotypes
---
WHAT'S HAPPENING AT THE MILL?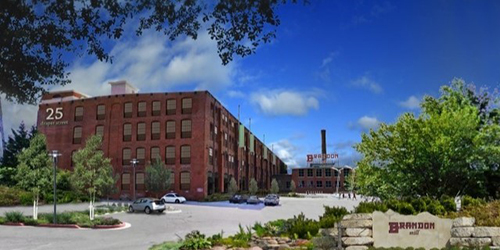 GREENVILLE CENTER FOR CREATIVE ARTS
in the Village of West Greenville
101 Abney, off Pendleton Street
www.artcentergreenville.org
Gallery hours every Wednesday through Friday from 1 to 5 PM 
UNCANNY TERRAIN:  APRIL 2, 2021 – MAY 26, 2021
ARTalk:Tuesday, May 18, 2021 / 6:00 – 7:00 pm
Opening Reception: Friday, April 2, 2021 / 1:00 – 9:00 pm
In Uncanny Terrain, artists Bryce Speed (Tuscaloosa, AL) and Maja Godlewska (Charlotte, NC) paint surreal environments as a means to investigate our relationship with the changing natural world. With abstracted fragments of shape and pattern and color derived from a heightened sensitivity to the environment, the artists help us to reconsider the world around us and our connection to it. Maja Godlewska's paintings and installations contemplate and defy the instantaneous search for the idyllic landscape. Finding where synthetic and natural realities merge, Bryce Speed paints dream-like environments to chronicle the changing climate as a metaphor for the evolving human self.
Uncanny Terrain is sponsored by OnPoint CFO & Controller Services. 
Community Gallery:
Featuring paintings by RANDOLPH NEW ARMSTRONG and CARRIE BURNS BROWN
---