Patricia Kilburg Studio
1209 Pendleton Street
Greenville, SC 29611
www.patriciakilburg.com
Want to visit the Studio? Call 630-1652
FIRST FRIDAY
Friday, October 6, 2017, 6-9 pm
Introducing My Guest Artists
Jan Sparks and Ali van den Broek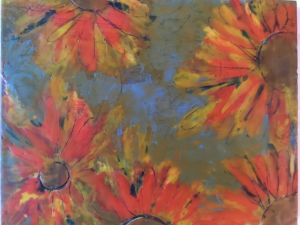 "I paint what I see and what I love, but I am not content to stick with one medium.  This restlessness
has led me to experiment with encaustic allowing me to combine painting, collage, carving, color,
and texture in interesting ways."  – Jan Sparks

"With a camera in my hands, I see behind the obvious: the shadows, reflections, designs
that often get missed. Now with encaustic, I am learning to translate those images into another
medium that brings out new qualities and dimensions." –  Ali van den Broek
Join us in the Flatiron Building for refreshments, conversation and lots of art.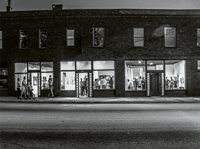 Directions to Patricia Kilburg Studio:
From S. Main Street take Pendleton Street approximately one mile into the Village of West Greenville's arts district.  Studio is on the left at 1209 Pendleton Street in the Flatiron Building.
Two-Day Encaustic Workshop
I will be teaching a 2-day encaustic workshop at
Greenville Center for Creative Arts
Thursday and Friday, October 12 and 13
To register:  http://www.artcentergreenville.org/fall-workshop-descriptions/
or call:  (864) 735-3948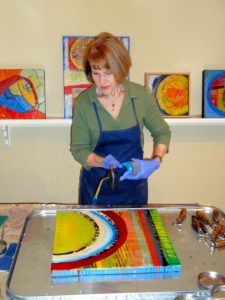 Experience encaustic–the ancient art of painting with pigments dissolved in hot beeswax, the same process used by the Egyptians to make their mummy portraits.  Using modern materials and methods, learn about the beauty and versatility of this luminous medium:  basic painting and fusing, incising lines and marks, creating texture and more.  Regardless of your skill level, you will create several small, beautiful encaustic paintings to take home.

WHAT'S HAPPENING AT THE MILL?
GREENVILLE CENTER FOR CREATIVE ARTS
in the Village of West Greenville
Greenville Center for Creative Arts (GCCA) at 25 Draper Street in the Brandon Mill complex is open
9:00 AM to 5:00 PM Monday through Friday
and Saturdays, 11:00 AM to 3:00 PM
NEW EXHIBIT:
CONFLUENCE: CONTEMPORARY PRINT COLLECTIVE (CPC) SOUTH CAROLINA / TAIWAN PRINT EXCHANGE
OCTOBER 6 – NOVEMBER 27, 2017
Artist Talk:  Tuesday, October 17 from 6 -7pm
CPC 2nd Annual Print Fair at GCCA: 
Friday, October 20 from 5 – 9pm / Saturday, October 21 from 10am – 5pm / Sunday, October 22 from 10am – 4pm
22 artists from the Contemporary Printmaking Collective of South Carolina and 22 artists from the Ideas Creation Studio of Taiwan will exhibit together in this international exchange of printmaking ideas and images.
---